Oil portraits on traditional stretched canvas offer something different to a pencil drawing – an opportunity to capture the subject's colouring and something of a background settting. I use canvases which are archival and acid-free, with a medium-textured weave .
A stretched canvas (where the canvas fabric is tightly stretched over and stapled to a timber frame) is typically between 18mm (3/4″) and 38mm (1 1/2″) deep. You can see two options below stretched around thin and chunky stretchers respectively.
When a canvas is going to be framed the 3/4″ deep option is preferable so that your frame doesn't need to be excessively deep in order to cover the sides. However if you prefer to hang your canvas directly on the wall without a frame and with the sides visible for a more modern look, then a deeper stretcher may look better. When a canvas is going to be hung straight onto the wall the staples are put onto the back instead of the sides – this is called a 'gallery wrap'.
If you commission a portrait in oils I'll talk to you about your plans for framing (or not) and what depth of canvas I should use and whether you want the sides left white or perhaps painted in a neutral or complimentary colour.
Something to be aware of when commissioning an oil painting is that the paint is usually applied in a number of layers, and each layer can take up to a  weeks to dry so if you are ordering a painting with a particular deadline in mind you'll need to allow plenty of time.  I can let you know how long a painting is likely to take to be completed and fully dry. I like to work in two main layers, and then a layer of final touches on top.  Below you can see the first and final layers of an oil portrait.
It's advisable to leave your portrait with me for a few more weeks after completion, to make sure the paint is dry and chemically stable enough to be safely packaged.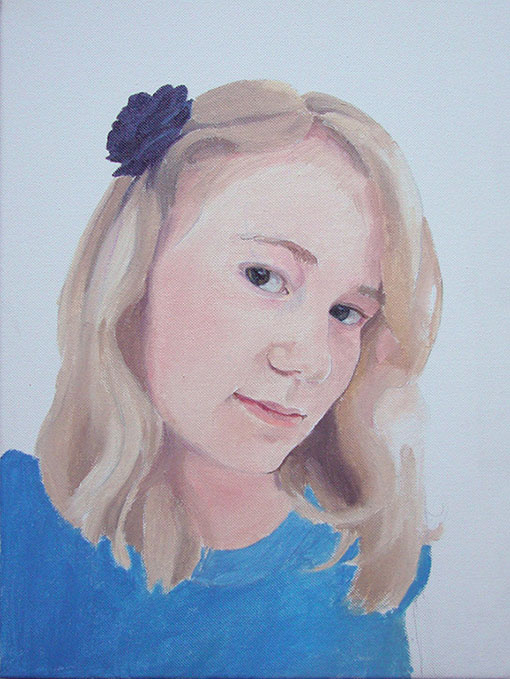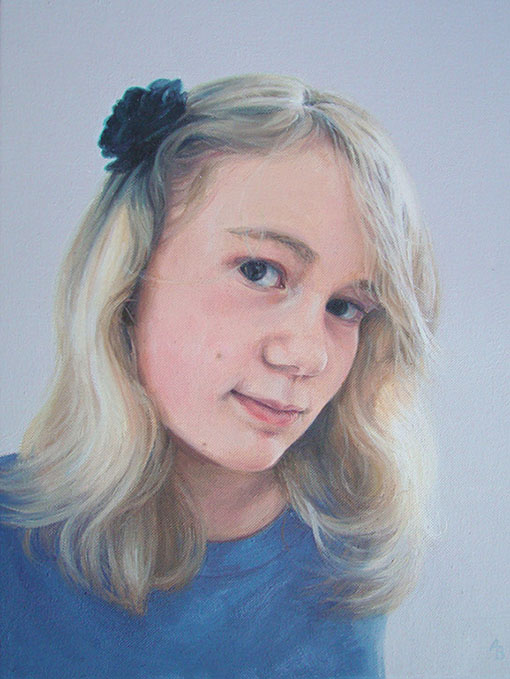 On the prices page you'll find a list of prices for some typical sizes, and all come in either thick or thin canvases depending on your preference. However canvases are available to buy in a very wide range of different sizes so if you have particular dimensions in mind just let me know. Have a read through this information on choosing a pose and a size for minimum canvas sizes I'll need if you want more than one subject in your painting.
For the background to your painting you may prefer a plain background of a soft complimentary colour and the hint of a light source, as in the example above. However if you want a figurative background instead – either clearly defined or somewhat abstracted –  bear in mind that the photo of your subject needs to be taken in front of this background. Mixing a painting of the subject from one photograph and a background from another won't be successful as the tones and light direction will be different.
With a painted potrait, the quality of the reference photograph is even more important than with a drawing and phone cameras won't capture tones and colouration well enough for me to work from. Read more about suitable photos for me to work from here
Framing & looking after your oil portrait
If you want your oil painting to be framed I am happy to offer advice on what kind of frame will suit your portrait. The 'framing and conservation' page (follow the link below) also has advice on how to frame a painting, and important information on how to hang and look after an oil painting to ensure it doesn't suffer any environmental damage.
Oil paint is chemically rather unstable for a number of years, and therefore  it's very important that your painting is kept in stable conditions without excessive heat or damp which may cause rotting to the canvass or movement within the timber frame which may crack the paint.
Oil paintings are traditionally framed without glass, and so whether framed or not you'll need to decide whether your painting should eventually be varnished to protect it from dirt. Whether varnish is necessary is rather a hotly debated topic. This is in part an aesthetic question, as varnishing produces a rather shiny look which may or may not be acceptable – although using a matt varnish will reduce this effect considerably. The main difficulty with a commissioned portrait however is that oil paint takes a very long time to dry. Although it will be safe to handle within a few weeks without the paint coming off on your hands, this type of paint dries through a process of oxidization rather than evaporation, as the oil binder that is mixed with the pigment meets the air.
It takes at least six months for the main chemical changes to have occurred and it isn't advisable to have your painting varnished before then. Therefore if you do want your painting to be varnished I'd suggest arranging for it to be delivered back to me after this time, or alternatively you could ask a local painter or restorer to do this for you. However you may decide that varnishing isn't necessary – if you keep your painting in a room well away from any candle or fireplace soot and away from cooking fumes and give it a gentle wipe with a moistened soft cloth regularly then it will probably be fine for at least a generation or two.